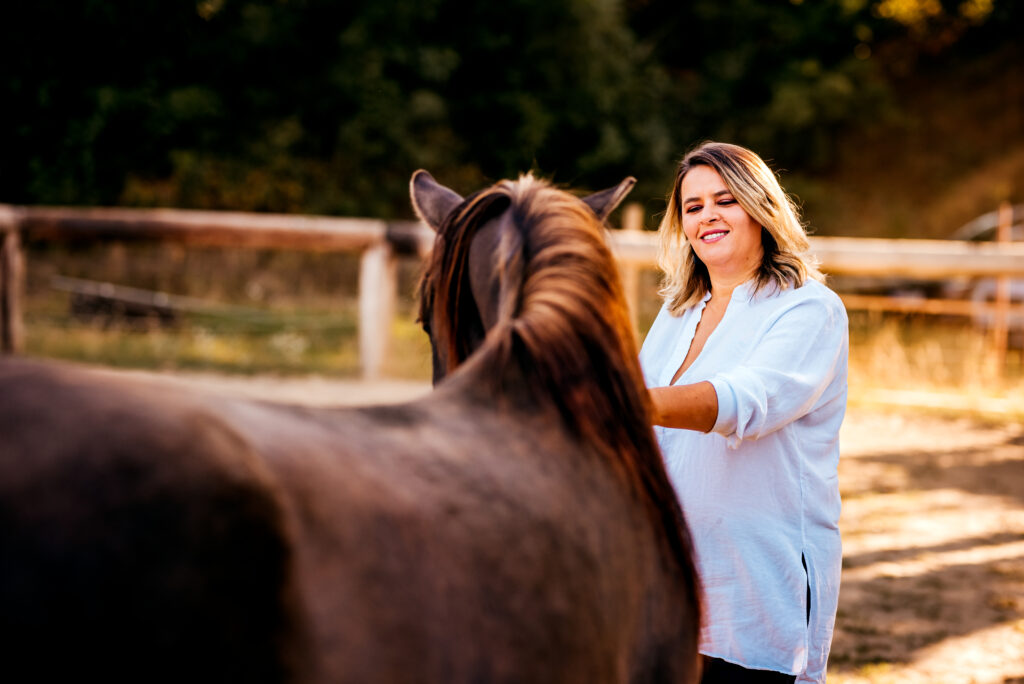 Here is an exclusive offer for all of you who, together with your partners and family, would try something completely new, learn a lot about each other, and have a good time along the way.
We are witnessing a very challenging time, and I created this program to support you to overcome the daily challenges in a fun and easy assisted by horses in the middle of nature.
What does this offer contain?
Horse-assisted coaching is an entirely new coaching experience, and this workshop is adapted to work with kids. As a mother of three, it's essential to create an environment for my clients to feel safe and supported. It is equally important that my horses feel safe and supported, so we work with the strength of your inner being and your energy instead of physical strength. And it is possible!
New coaching experience to help you:
– See how your partner overcomes some challenges in your relationship (and you too!).
– Release blockages in daily communication and speak your mind clearly and intentionally.
– Redefine personal boundaries and learn how to respect them.
– Bring out some important topics like trust, commitment, values, and respect.
– Working on one specific family goal.
– Learning something new, together with your partner and kids (like horseback archery).
– Spend 4 hours with your family (and our team) in the middle of nature, with horses, only 20 minutes from Vienna.
Coaching sessions are held outdoors, in the natural environment of the horses, and under all weather conditions (so we learn to accept the natural elements and receive messages that nature sends us)
– We do not use physical force in the sessions. The horse is our partner in the session, and we treat him concerning gain respect and trust. We encourage their authenticity and natural hierarchy in the herd, so aggressive behavior is strictly forbidden.
– Each exercise is carefully designed and easily guides you through the process, and the process is enjoyable.
– Sessions are recorded with the client's permission and serve as good material to follow the process through time.
– We don't ride during the sessions, and all the work is on the ground. Horses are trained according to the Parelli methodology and are safe to work with humans.
Whether this is your first coaching experience or you have been on the path of personal and professional development for a long time, I am sure that you will experience a completely new coaching experience at the Love with Ease workshop.
I am with you during the whole session as support, best friend, coach, and mentor. And after the session, I like to hear about your progress, so I encourage you to email me.
For horse-assisted coaching, you do not need any prior knowledge about horses or previous experience in coaching. The less experience – the better because you will enter the process with an open mind and without prejudice.
If you are into this offer, if you want to make a significant shift in your daily life, learn how to set healthy boundaries, clearly communicate your wishes and needs, I am sure this is the offer you have been waiting for for a long time.
My clients, I go through this process, learn how to create their own intimate space and how to protect it in just one session. They recognize patterns that cause them difficulties and learn how to eliminate them because they get the most honest feedback possible and have the opportunity to try out how they can do it in a better way. And why is this offer exclusive? No, there is no special price, because the investment of 488 euros for this experience is already premier, in itself.
What is exclusive is the opportunity to spend a day that you will talk about for a long, long time. And you will look at each other differently. And what is the most exclusive is that you will meet a four-legged friend for life, and you will gladly return to us.
If this seems interesting to you and you are ready for a unique coaching experience, let's check if we are a perfect match. If we are, we can find the ideal date for you and your dearest ones.
SIGN UP