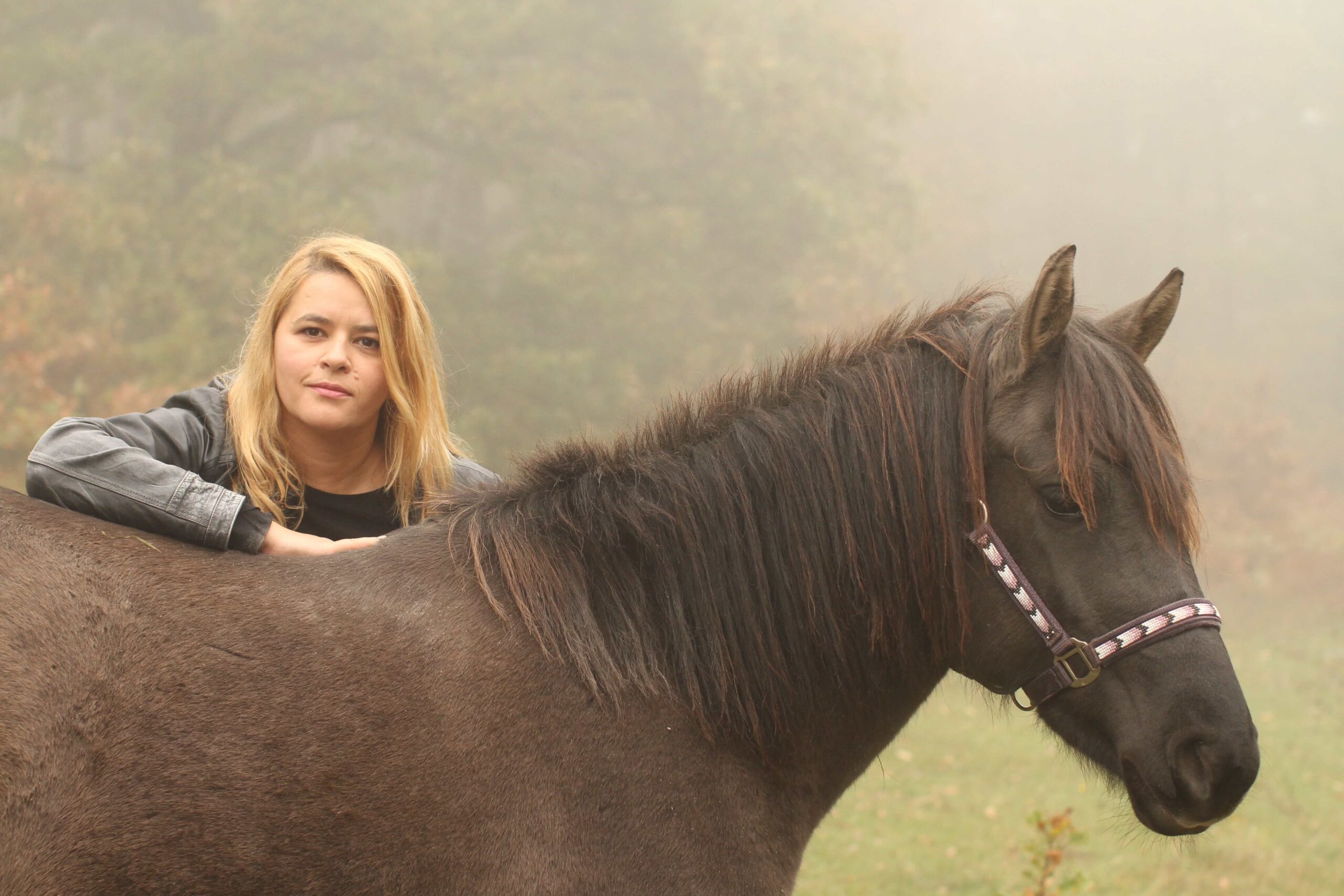 Hi, I am Azra. A Sociologist, an entrepreneur, + a mom of three = mompreneur. I am a seeker. I have always been on a quest for knowledge. In search of wisdom. My life is just like yours: a lot of research. I am a person with a degree of a Sociologist, a degree of NLP Therapeutic Counsellor and Horse assisted coach, currently working on a Master's Thesis in the field of Business Psychology. However, I am also a person who seeks spirituality.
I am a mom, and I love order and discipline; I crave structure, but I also enjoy feeling the ground under my feet barefoot, traveling into the world of imagination, and having interesting conversations until late into the night. I love beautiful dresses, heels, business outfits, and events. But I equally enjoy spending the day with the horses cleaning the barn.
Is it sometimes challenging to keep all my roles and interests in balance? Oh, yes, it certainly is! I know what it is like to feel stuck between your roles. I strive for perfectionism. I wanted to be the perfect mom, the supportive wife, the successful businesswoman, the super-woman. And then, at one point, everything seemed to fall apart. I felt like I had failed in all fields. That I am "just" a mom, a housewife, without a clear vision of what my life should look like. I needed something to regain my power.
Hence, I turned to the spiritual practice and ancient spiritual teachings, and there I found all the answers. Then horses came into my life. The horses helped me set things up differently in my life. Today, I live my dream life, and I combine all the roles, my ambitions, desires, and dreams.
My power radiates from the centre of my being, and my words and deeds reflect my strength and authenticity.
I have found the solution, and now I am sharing that solution with you through various coaching programs. In my programmes, you will learn super useful techniques such as NLP-based communication skills and spiritual techniques such as awakening energy centres through dance and releasing tension from the body with the help of breathing.
I am very proud because my clients say that thanks to my programs, they have achieved:
– To feel more confident
– They took their lives into their own hands again
– They communicate much more powerfully and more clearly
– They connected with their inner wisdom
– They use intuition a lot more when they make choices and trust themselves more
– They have a better sense of their worth, and that helps them achieve what they want in their career
– They do not hesitate to demand more in accordance with what means more to them
– They feel connected to other beings on the planet and believe that they are part of a community that makes positive changes…
Thanks to these changes, many of my clients have made the most significant moves in their private and business lives, resolved some complex relationships, asked for a pay raise or better working conditions, and started their own businesses.
Wondering what the secret is? There is no secret. Once upon a time, I decided it was time to face my fears. All my fears came down to one: the fear of the horse when I first met him. Fear will I be hurt, rejected? Will the horse see my weaknesses, lack of knowledge, and experience?
I have overcome that, and now it is my job to support you through the process of rediscovering your centre of power. When you connect with that centre, the fear goes away, and, in its place, comes relaxation and indulgence in the process.
Did my story inspire you? In my blog, I write about all the challenges faced by a modern woman who is not satisfied with just one role and who knows that her life is destined for much bigger things.
I also created a special event for women – Simply me retreat – where we move away from everyday roles for 48 hours, and in the mystique of Mongolian white tents, we connect with each other at the level of values ​​and remember the ancient knowledge that is in us and that serves to establish balance and regain power in our daily lives.